천인 KORVA
스텐레스 스틸 모터
스텐레스 스틸 모터 | Stainless Steel Motor
STAINLESS STEEL전동기는 FRAME, BRACKET, FAN COVER CONDUIT BOX, SHAFT가 STAINLESS STEEL로 제작되어있어 부식이 발생되지 않으며 습기가 많은곳에 사용하기
적합한 전동기입니다. 또한 구조가 IP 65이고 표면이 SMOOTH BODY이므로 사용후 이물질 오염이되더라도 고압 물세척이 가능합니다.
All outside surface (Frame, Shaft, Bracket, and Conduit box) is covered with Stainless steel.
It is suitable for use in Humid areas and very harsh condition area. It is very easy to clean up with high pressure water jet.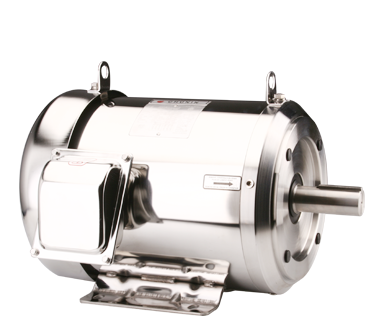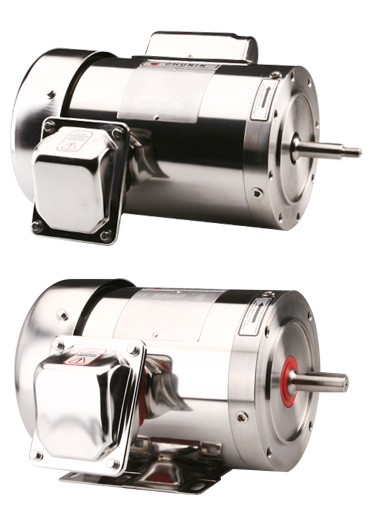 용량
1/3 ~ 10HP
전원
208V ~ 230V/460V/575V
극수
2P, 4P, 6P, 8P
주파수
50Hz, 60Hz
특징

1. 냉각방식은 TENV 및 TEFC 적용
2. NEMA Design : B
3. CSA, CE, UL, 규격 획득
4. 미국 DOE, CSA 프리미엄 전동기 인증
5. Insulation - Class F, H
6. 모든 내부 틈새는 RTV Sealant 방수 처리로 물기 침투 완전 차단
7. C-face bracket 4개소에 Stainless Steel drain plug 설치
8. Inverter 운전 가능
9. Enclosure IP65

설치장소
습기,물기가 많은곳, 식품가공기, 목장, 음료공장등
Capacity
1/3 ~ 10HP
Voltage
200V ~ 600V
Pole
2P, 4P, 6P, 8P
Frequency
50Hz, 60Hz
Characteristic

1. TENV and TEFC are applied for cooling method
2. NEMA Design : B
3. CSA, CE and UL approved
4. Certified as a premium motor by the DOE (USA) and CSA
5. Insulation Class F, H
6. Moisture is contained by applying an RTV sealant water-proof
treatment
7. Stainless steel drain plugs are installed in four(4) locations on the
C-face bracket
8. An Inverter can be operated
9. Enclosure IP65

Application
- Food processing machines exposed to moisture
- Stock Farms, beverage factories